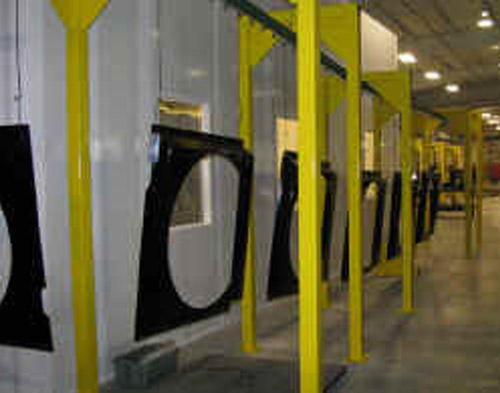 ICF Industries specializes in powder coating fabricated sheet metal components ranging from large assemblies to small brackets. Custom fabricated parts can be powder coated in thicknesses ranging from 2 mils to 5 mils. Our powder coating process enhances the aesthetic and corrosion resistance qualities of parts fabricated from stainless steel, aluminum, in addition to other sheet metals.
Our powder coating line allows us to coat sheet metal parts up to 8′ long and 4′ high. The 8-stage wash thoroughly cleans every component prior to coating. The cleaning, rinsing, and chemical pretreatment eliminates residual impurities from metal substrates. This process also aids in enhancing the adhesion and corrosion-resistance properties of metal substrates. Powder coat paint is applied by manual process. A paint thickness detector and gloss meter test the powder coated parts to ensure surface uniformity and gloss. We also assist customers with color matching services to meet specific finishing requirements.
Industries Served
Powder coating metal parts provides excellent corrosion resistance as well as an aesthetically pleasing surface finish. We have powder coated finished metal parts for:
Radiator / Heat Exchanger
– Cars and Trucks
Lawn Care
– Lawnmower decks for ZTR mowers
– Misc. sheet metal parts/brackets
Healthcare
– Wheelchair assist platforms
– Supply cabinets
Military Use
– Radiator mounts for off-road use
Stored Energy Applications
– Motorcycle, ATV and Off-Road vehicle battery boxes
Artistic Elements
– Playground Art (Cut outs)
– Screen Layouts
– Plaques and Signs
Engine Lifts
We can coat metal parts manufactured in-house or we can work with prefabricated parts sent to us. Please give us a call to find out more about our powder coating services.
Material Substrates
We have the ability to powder coat all metal parts including:
Stainless Steel – All Grades
Aluminum – All Grades
Carbon Steel
Mild Steel
Cold Rolled Steel
Grade 50 High Strength Low Alloy Steel
Part Dimensional Limitations
Our new powder coating system allows us to powder coat paint products up to 8′ long x 4′ high x 2′ wide.
Tolerances Powder coat paint is applied by manual process with a standard thickness of 2-4 mils. We can provide 3-5 mils coat thickness if necessary.
Production Volume
Our automated 8 stage washer unit and manual powder coating paint booth is geared for a high production rate but can also be used for single parts and prototypes.
Our current washer was recently upgraded so that it uses oxsilan, which is a green version of zinc phosphate.
It was also upgraded to use RO (Reverse Osmosis) Water system for the cleaning stages.
In-House Equipment
Powder Coat Line with 8-stage wash