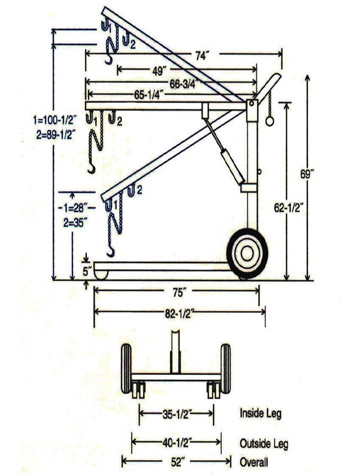 Towable Models
The hooks on the booms are grab hooks so the chain may be adjusted to any height.
The boom chains are long to hook into the base when towing to prevent the lift from "jack-knifing."
The Tip Tow II and the Tip Tow 10 have two hooks on the boom with different lifting capacities.
Manufactured for heavier applications, the Tip Tow 3000, Tip Tow II and Tip Tow 10 are engineered for perfect balance and easy towing with couplers that fit either 2″ or 2 1/8″ balls. The Top Tow 3000 lifts up to 3,000 pounds and the Tip Tow II supports either 1,000 or 1,500 pounds from two lifting locations on the boom.
The Tip Tow 10 is perfect for situations where long reach and high lift are required. Boom hooks can be raised to a full 10 feet, making it the ideal lift for jacked-up 4×4's, boat engines (even on trailers) and airplane engines. The unique gooseneck design lets users reach into engine compartments without touching the surrounding structure.
Non-towable versions of the Tip Tow lifts are available as shop lifts. They have the same quality features as the Towables, but without the towing wheels, spindles and coupler. These lifts are perfect for shops, warehouses, plants, or any location where towing capability is not required.
Shop Lifts Approx. 40 Lbs. less than comparable towable models.
Tip Tow II Product Specifications
Capacity
Outer Hook: 1000 lbs.
Inner Hook: 1500 lbs.
Towing Wheels
4.80 x 8
Bearings in Tow Wheel
High speed, tapered cone bearings.
Coupler
Optional-Croft cast steel for 2″ and 2-1/8″ ball.
Standard-Fulton for 2″ and 2-1/8″ ball.
Shipping Weight
307 lbs.
Jacks
Engineered to exacting specifications with a slow release valve that lets the load down slowly and gently
Internal pressure relief valve prevents damage if the load exceeds rated capacity
Chrome-plated ram resists seal damaging rust and corrosion.
Rebuildable and easy to service
Applications
ICF Industries lifts are an industry classic valued by racing teams, machine shops, hobbyists, rental stores and a wide range of industrial buyers for dependable performance in a broad range of challenging applications.
Tip Tow II Features
Craftsmanship:
Durable, versatile, and easy to use, ICF Industries' knockdown lifts offer unparalleled features and performance.
Leg and column post sockets are sized for precision fit, making the lifts stable and easy to assemble, while interchangeable parts offer versatility and convenience.
The hook on the end of the boom turns 360 degrees, making it easy to pick up, load, and reposition objects.
Portable:
ICF Industries knockdown lifts can be taken apart in minutes making them easy to transport. They fit easily in a car trunk, a pickup truck or an elevator. On site, the lift assembles quickly and fits wherever it is needed. They go wherever the job is-backyard, shop, warehouse, office tower or construction site. For extra ease and portability, all parts of the Knockdown lifts can be moved in the wheeled Kaddy, which enables easy handling by one person, and is narrow enough to fit through a 20 inch opening.
Towable lifts can be hitched to any truck/SUV equipped with a 2-1/8″ ball tow hitch.
Versatile:
ICF Industries lifts handle some of the costliest engines in the world, and a host of other products and materials too, ranging from pianos to hospital equipment, building supplies and material.