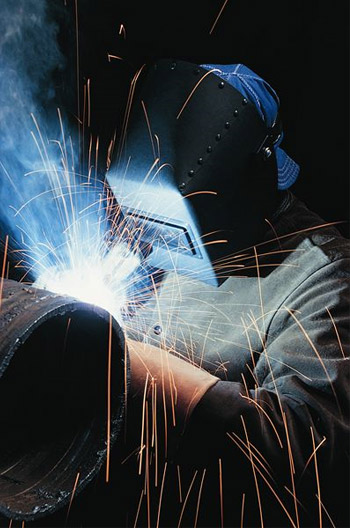 Experienced AWS certified welders provide manual welding services for stainless steel, steel and aluminum fabrications ranging from wheelchair assist platforms to large angle iron used in building foundation projects. We can weld carbon steel, stainless and aluminum in thicknesses ranging from 0.030″ up to 0.625″.
Depending on your specific application needs, custom fabricated parts can be joined with butt, lap, or corner joints. We also stock a range of wire and filler rod materials for welding most alloys.
Materials Used
We can manually weld all steel, aluminum and stainless steel materials and alloys. We use MIG, TIG and Spot Welding techniques as needed or as requested by our customers. The various welding methods offer different advantages:
MIG Welding
High productivity
Minimum cleanup
Can weld sheet metals in all positions
Long welds can be carried out without interruption
Higher deposition rates
TIG Welding
Free of spatter
Superior quality welds
Low distortion
Welding variables can be precisely controlled
Welding can be carried out with or without fillers
Spot Welding
Economical
Suited for high-rate production
High speed welding
Part Dimensional Limitations
Our AWS certified welders can tackle any size job, from small brackets made at our facility to large foundation structures assembled at the job site. We use the weld type and/or joint that will best suit the application for the highest quality finished part, such as:
Fillet Welds
Square Welds
V-Grooved Welds
Butt Joints
T Joints
Corner Joints
Lap Joints
Production Volume
Our welders can tackle single part projects or high volume production runs requiring elaborate welding techniques. Please contact us with any size production request.
Secondary and Finishing Operations
We can provide a variety of finishing services subsequent to welding your completed sheet metal part. These auxiliary services include:
Powder Coating
Assembly Services
Labeling and Silk Screening
Zinc and Chromate Plating
In-House Equipment
(7) Miller Delta Weld MIG Stations
(2) Miller TIG/ARC Water Cooled
Lincoln Power Mig 350MP
FIM Spotwelder 100 KVA 3 phase
(2) Atomic 100 KVA Spotwelder
Atomic 50 KVA Spotwelder